Engine Speed Sensor/Position Camshaft and Crankshaft Misalignment – Mechanical System Not Responding Properly or Out of Adjustment

Printable Version
Overview
CODE
REASON
EFFECT
Fault Code: 731
PID: S064
SPN: 723
FMI: 7/7
LAMP: Amber
SRT: 

Engine Speed Sensor/Position Camshaft and Crankshaft Misalignment – Mechanical System Not Responding Properly or Out of Adjustment. Mechanical misalignment between the crankshaft and camshaft engine speed sensors.

Engine will run derated. Excessive smoke, hard start, and rough idle possible.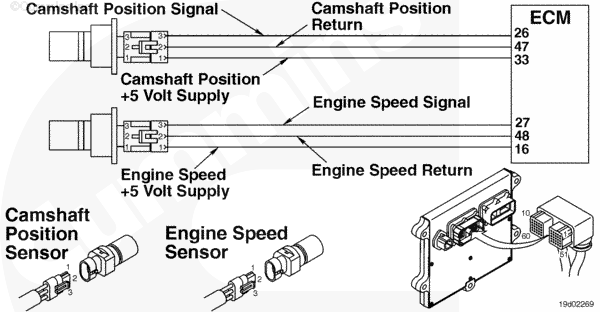 Engine Speed Sensor and Camshaft Position Sensor Circuit
Circuit Description
The engine speed sensor and camshaft position sensor provide an engine speed and position signal to the electronic control module (ECM) through the engine harness.
Component Location
Refer to Procedure 100-002 (Engine Views) in Section E for a detailed component location view.
Shop Talk
This fault will become active anytime the ECM receives a signal from both the primary EPS (crankshaft sensor) and the backup EPS (camshaft sensor), and the ECM determines that the camshaft and crankshaft signals are not in the correct phase. If this fault code is active immediately following a repair that includes camshaft removal, it is likely that the camshaft gear was installed incorrectly and is not timed correctly.
Refer to Troubleshooting Fault Code t05-731
Last Modified:  08-Jul-2010