Fuel Filter Restriction Moderately High – Warning

Printable Version
Overview
Fuel Filter Restriction Moderately High – Warning
CODE
REASON
EFFECT
Fault Code: 2372
PID: P95
SPN: 95
FMI: 0/16
LAMP: Amber – Maintenance Flashout
SRT: 

Fuel filter restriction moderately high – warning. Fuel filter is plugged or fuel inlet restriction is high.

The engine can respond poorly after motoring and/or the engine can have low power at high engine speeds.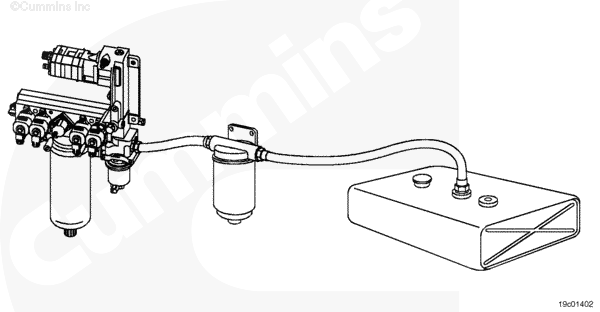 Integrated Fuel System Module (IFSM)
Circuit Description
This fault code activates if low fuel pressure is detected by the Electronic Control Module (ECM) during high engine rpm or motoring conditions.
Component Location
There are two fuel filters and several OEM supplied components that can attribute to this fault code. The pressure-side fuel filter is located on the Integrated Fuel System Module (IFSM). The suction-side fuel filters and other OEM supplied components are OEM specific. The OEM is required to supply a suction-side filter with 25 to 150 micron filtration. The suction-side filter is typically frame-mounted near the IFSM. However, exact location is OEM dependent. Refer to the OEM for component location.
Shop Talk
Low fuel pressure during high engine speeds or motoring conditions indicates a fuel inlet restriction or a plugged pressure-side fuel filter. Items that can cause this fault code to activate are:
Plugged pressure or suction side fuel filter
Collapsed fuel inlet lines
Obstructed suction tube in fuel tank.
For engines with phase 4 or phase 5 software, in order to disable this fault code, the engine must be run above 1800 rpm under no load or a very light load for approximately 15 seconds.
If the engine speed is limited due to Maximum Engine Speed without vehicle speed sensor (VSS), one of the following methods can be used to clear this fault code:
Adjust the Maximum Engine Speed without VSS to a value above 1800 rpm and clear the fault code as stated above.
Start the Setup for Dynamometer Test in INSITE™ and clear the fault code as stated above.
Run the unit in first gear with no load at wide open throttle for 15 seconds. NOTE: This method will not work if load based speed control is set to values less than 1800 rpm. For engines with phase 6 or greater software, the fault code will go inactive after ten seconds of idling. Therefore, the fault can be inactive even though the problem has not been found and fixed. Due to this interaction with phase 6 or greater software, this fault code must be followed for an inactive fault code.
Refer to Troubleshooting Fault Code t05-2372
Last Modified:  01-Sep-2010