Engine Fuel Shutoff Valve Drive Circuit – Voltage Above Normal or Shorted to High Source

Printable Version
Overview
CODE
REASON
EFFECT
Fault Code: 255
PID: S017
SPN: 632
FMI: 3/3
LAMP: Amber
SRT: 

Engine Fuel Shutoff Valve Drive Circuit – Voltage Above Normal or Shorted to High Source. Open circuit or short to voltage source detected at fuel shutoff valve circuit.

Fuel shutoff valve may not open when keyswitch is in ON position, or may not close when keyswitch is OFF position.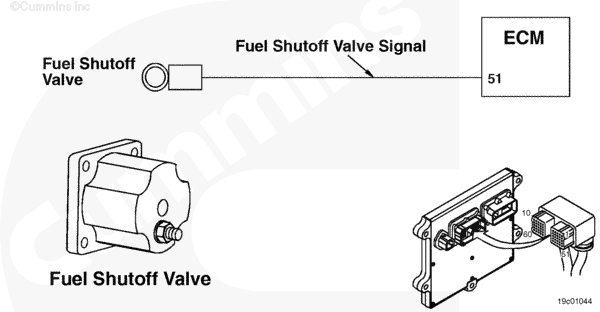 Engine Fuel Shutoff Valve Drive Circuit
Circuit Description
The electronic control module (ECM) supplies voltage for the fuel shutoff valve to open. If voltage is externally supplied to the fuel shutoff valve, it will stay open.
Component Location
The fuel shutoff valve solenoid is located on the fuel delivery housing. Use the following procedure for a detailed component location view. Refer to Procedure 100-002 in Section E .
Shop Talk
If there is an external shutdown system on the vehicle, make sure it is not miswired and feeding voltage into the fuel shutoff supply circuit.
Possible causes of this fault include:
Open circuit in the engine harness, connectors, or shutoff valve.
Fuel shutoff valve signal wire shorted to a voltage source in the harness.
Refer to Troubleshooting Fault Code t05-255
Last Modified:  02-Sep-2010