Injector Solenoid Driver Cylinder 2 – Mechanical System Not Responding Properly or Out of Adjustment

Printable Version
Overview
CODE
REASON
EFFECT
Fault Code: 1141
PID: S002
SPN: 652
FMI: 7
LAMP: Amber
SRT: 

Injector Solenoid Driver Cylinder 2 – Mechanical System Not Responding Properly or Out of Adjustment. Unintended fueling detected in cylinder number 2.

Engine will shut down.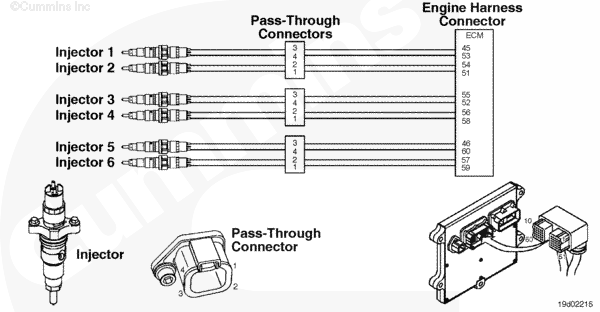 Fuel Injector Circuit
Circuit Description
The electronic control module (ECM) can detect when unintended fuel injection occurs by monitoring fuel rail pressure and engine speed. This fault code is logged when the ECM determines that unintended fuel injection has occurred.
Component Location
The fuel injector is located in the cylinder head. Refer to Procedure 100-002 for a detailed component location view.
Shop Talk
This fault code can be caused by a failed or damaged injector causing continuous injection into the cylinder. Progressive cylinder damage may occur if the engine is operated for an extended period of time with this condition. If a failed injector is found to be the cause of this fault code, the cylinder liner and piston must be inspected for progressive damage.
If an injector nozzle is fractured or stuck, continuous fueling will occur in that cylinder. If this condition occurs, the engine will typically die and not start. There will be exhaust smoke during cranking and no fuel rail pressure will be developed during cranking. Fault Code 2215 will be active during cranking if this condition exists.
Refer to Troubleshooting Fault Code t05-1141
Last Modified:  08-Jul-2010