Fuel Pump Delivery Pressure High – Data Valid but Above Normal Operational Range – Moderately Severe Level

Printable Version
Overview
CODE
REASON
EFFECT
Fault Code: 2216
PID: P94
SPN: 94
FMI: 1
LAMP: Yellow
SRT: 

Fuel Pump Delivery Pressure High – Data Valid but Above Normal Operational Range – Moderately Severe Level. The ECM has detected that fuel pressure is higher than commanded pressure.

None or possible engine noise associated with higher injection pressures
(especially at idle or light load).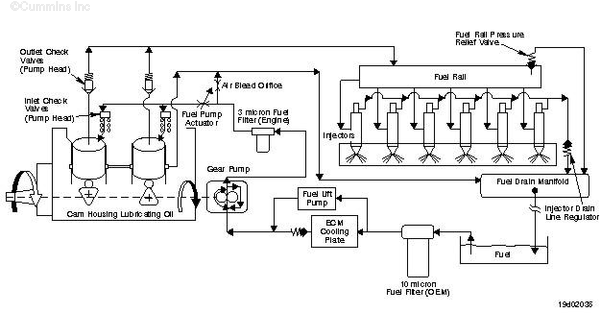 High Pressure Pump
Circuit Description
The electronic control module (ECM) monitors engine operating conditions, including the reading of fuel rail pressure, and changes the flow command to either increase (open the fuel pump actuator) or decrease (close the fuel pump actuator) the fuel supply to the high pressure pump.
Component Location
The fuel pump actuator is installed in the adapter on the back of the high-pressure pump.
Shop Talk
A fuel pump actuator with excessive leakage or a damaged inboard o-ring will result in high fuel rail pressures at idle or light load.
If the fuel pump actuator exhibits excessive leakage, it is possible that the fuel rail pressure will reach the opening pressure of the fuel rail pressure relief valve and Fault Code 449 may also become active.
Refer to Troubleshooting Fault Code t05-2216
Last Modified:  08-Jul-2010