Turbocharger Speed Invalid Rate of Change Detected – Abnormal Rate of Change

Printable Version
Overview
CODE
REASON
EFFECT
Fault Code: 2345
PID: P103
SPN: 103
FMI: 10/10
LAMP: Amber
SRT: 

Turbocharger Speed Invalid Rate of Change Detected – Abnormal Rate of Change. The turbocharger speed sensor has detected an erroneous speed value.

Engine power derate.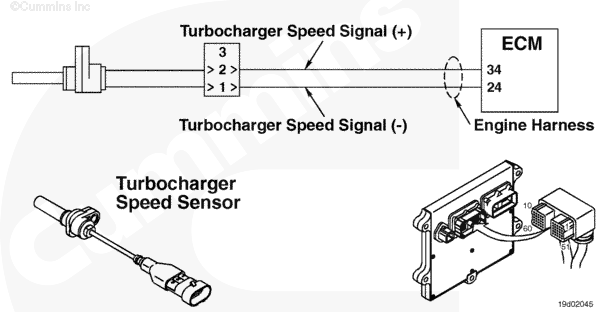 Turbocharger Speed Sensor Circuit
Circuit Description
The turbocharger speed sensor is a variable reluctance speed sensor. It consists of a coil of wire and an iron core. A signal is generated as the turbocharger shaft spins. The target on the turbocharger shaft is a ground flat in the center of the shaft.
Component Location
The turbocharger speed sensor is located in the center housing of the turbocharger. Refer to Procedure 100-002 for a detailed component location view.
Shop Talk
This fault becomes active if the engine is running and the turbocharger speed signal rapidly changes faster than the capabilities of the turbocharger. This fault code can be caused by an intermittent turbocharger speed sensor connection, incorrect turbocharger speed sensor air gap, or a faulty turbocharger speed sensor.
Refer to Troubleshooting Fault Code t05-2345
Last Modified:  08-Jul-2010