Turbocharger Number 1 Compressor Inlet Temperature Sensor Circuit –
Voltage Below Normal or Shorted to Low Source

Printable Version
Overview
CODE
REASON
EFFECT
Fault Code: 692
PID: 
SPN: 1172
FMI: 4/4
LAMP: Amber
SRT: 

Turbocharger Number 1 Compressor Inlet Temperature Sensor Circuit –
Voltage Below Normal or Shorted to Low Source. Low signal voltage detected at the turbocharger compressor inlet air temperature sensor circuit.

Engine power derate.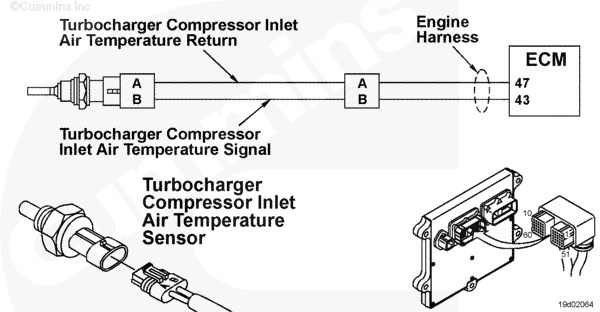 Turbocharger Compressor Inlet Air Temperature Sensor Circuit
Circuit Description
The turbocharger compressor inlet air temperature sensor is used by the electronic control module (ECM) to monitor the temperature of the intake air temperature coming into the turbocharger. The ECM monitors the voltage on the signal pin and converts this to a temperature value. This temperature is one of many inputs used by the ECM to control engine operation and emissions.
Component Location
The turbocharger compressor inlet air temperature sensor is located in the compressor casing of the turbocharger. Refer to Procedure 100-002 for a detailed component location view.
Shop Talk
An extension harness between the main engine harness and the turbocharger compressor inlet temperature sensor may be used depending on the turbocharger arrangement.
Possible causes of this fault code:
Signal circuit shorted to ground in the harness
Signal circuit shorted to return or ground in the sensor
Failed sensor.
The resistance of the sensor varies with temperature. The sensor resistance should conform to the values in the table shown below.
| | | |
| --- | --- | --- |
| Temperature (°C) | Temperature (°F) | Resistance (ohms) |
| -10 | 14 | 49k to 62k |
| 0 | 32 | 29k to 36k |
| 20 | 68 | 11k to 14k |
| 40 | 104 | 4.9k to 5.8k |
| 70 | 158 | 1.6k to 1.9k |
Refer to Troubleshooting Fault Code t05-692
Last Modified:  08-Jul-2010