Intake Air Heater #1 Circuit – Voltage Below Normal or Shorted to Low Source

Printable Version
Overview
CODE
REASON
EFFECT
Fault Code: 2556
PID: S070
SPN: 729
FMI: 4
LAMP: Amber
SRT: 

Intake Air Heater #1 Circuit – Voltage Below Normal or Shorted to Low Source. Low voltage detected at the intake air heater signal circuit.

The intake air heaters may be ON or OFF all the time.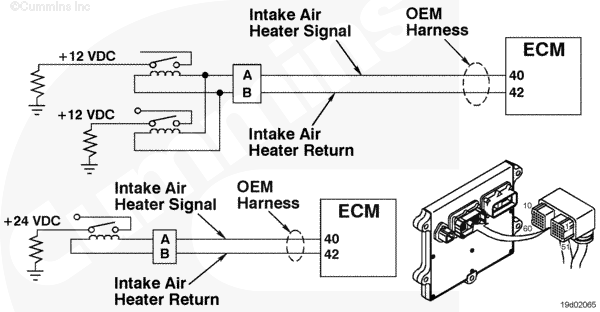 Intake Air Heater #1 Circuit
Circuit Description
The intake air heater improves starting and white smoke control in cold ambient conditions. The ECM controls relays that switch power to the intake air heater. 12-volt systems will have two relays while 24-volt systems only require one relay.
Component Location
The intake air heater is located at the air inlet connection into the intake manifold. The location of the intake air heater relays will vary by OEM. Refer to Section E for a detailed component location view.
Shop Talk
Possible causes of this fault code include:
A shorted intake air heater relay
Intake air heater relay supply wire shorted to ground.
Refer to Troubleshooting Fault Code t05-2556
Last Modified:  08-Jul-2010